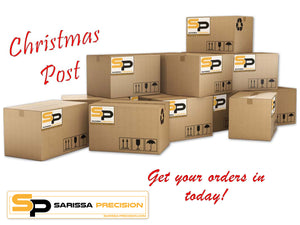 DarkOps and Sarissa Precision Christmas Post 2023
It's always best to plan ahead and we know the post tends to be a little all over the place as we get towards the busiest time of year. Please make sure you get those orders in for anything you need (want want want) for Christmas!
Yes, it's that time of year where the potential for experiencing delays and disruptions in our postal services is high. So with this in mind, we've estimated some last minute timings that we think will give your parcels a chance to reach you for the all-important holidays.
Please have your

standard

delivery order to us by:
Central and South America, Asia, Australia, Caribbean and New Zealand
28th November
Austria, Belgium, Denmark, Eastern Europe (except Czech Republic and Poland), France, Germany, Greece, Iceland, Ireland, Luxembourg, Netherlands, Norway, Portugal, Slovakia, Spain, Switzerland, Turkey
30th November
Canada, Czech Republic, Finland, Italy, Poland, Sweden, USA
1st December
UK
Sunday 17th December
Of course, we will do our best at our end to make, pick, pack and dispatch your orders as quickly as possible. Then it is down to the whims of the parcel gods (and the parcel service providers) as to how they'll manage during this busy period.
For further information please refer to our standard shipping information: HERE
For further information on the EU IOSS please refer to our information guide: HERE
Below are some key points from these information pages

Please note that all orders placed on this website are shipped from Sarissa Precision Limited, located in Langley Mill, England.
Processing Times & Procedure
There are a couple of things you can do to make sure that there is no delay when you place your order. 

Contact details -
make sure your email address is correct and you include a contact phone number. The phone number is important as we will need one if your order is being sent tracked or via courier.
If Paypal Express is your method of payment, please add a phone number in the comments section if you have not entered one on the website.
Shipping
We ship orders from the UK via Royal Mail Standard Airmail Service, FedEx, UK Mail, UPS or DHL.
UK orders are shipped using Royal Mails Tracked 48 hour service.
Standard Service
Parcels sent within the UK usually take 2-4 days * from shipping to arrive at your door.
Shipping to the US usually takes 5-10 days *.
See below for full details, prices and estimated timings for other countries.
Delivery charges start from £5.00 and vary price depending on weight and destination.
*
At extremely busy times (particularly November and December), it can take up to 10 days for orders to be manufactured '

before

' posting.

Please note custom charges may apply when shipping outside of the UK and Europe.

We are registered with IOSS and it is now enabled for all EU orders placed on the website below the recommended €150
The following chart shows the details of our Standard Airmail service, Courier options are also available:
Ordering Country

Delivery Time
(Working Days)*

Postage Costs for Orders
UK - Tracked 48

2-4

From £5.00

Western Europe
France/Germany/Belgium/Netherlands/Austria/
Czech Republic/ Ireland/Luxembourg/Poland

3-5

From £6.00

Southern Europe
Spain/Italy/Portugal

3-7

From £6.00

Eastern Europe & Scandinavia 
Slovakia/Denmark/Estomia/Finland/Hungary/Latvia/Lithuania/
Slovenia/Sweden/Greece/Norway/Switzerland

5-9

From £6.00

European Islands 
Iceland/Greenland/Cyprus/Malta

5-9

From £6.00

USA

5-10

From £12.00

Canada

5-12

From £12.00

Rest of World

5-10

From £12.00

 

* Delivery time DOES NOT include the time it takes to make, pick and pack the order (potentially up to 10 days during busy periods). Delivery times are service providers estimates. Orders once posted can take up to 14 Days (UK) or 28 Days (RoW) for delivery.
---